Last Updated on December 22, 2019 by Mack Barnes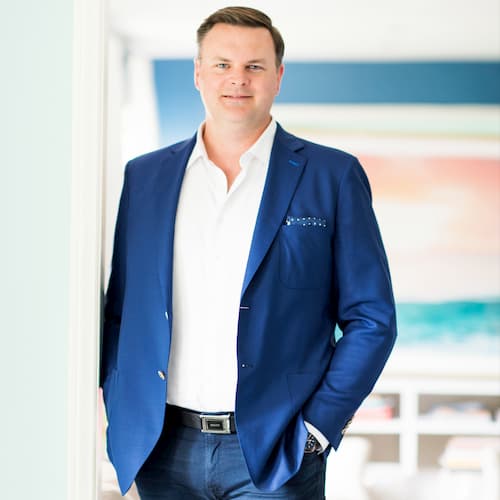 Featured Student – Simon Shingleton
Barnes Real Estate School is kicking off our Featured Student Series with Simon Shingleton. We asked Mr. Shingleton to provide us with his background information, and Simon was kind enough to do a Q&A.
Background
Simon Shingleton has been actively involved in the Oklahoma City real estate community for nearly 20 years. Simon obtained his real estate license while attending the University of Oklahoma, Price College of Business, where he graduated with a degree in Business Finance. Upon graduation, Simon began work for a development firm where he oversaw the sales and development of 20+ neighborhoods across the metro. It was during this time that he refined many of the skills that contribute to his success today. His attention to detail and keen ability to problem solve contributed to the rapid business growth year over year.
In 2009, Simon joined Keller Williams as he made the transition from development into residential sales. Since then, he has helped families buy and sell over $143,000,000 in Oklahoma real estate. As a single agent, Simon is unique in that he is actively involved from initial consultation through closing. Simon wants clients to know that he works hard and does whatever it takes to lead to a successful sale. He provides concierge-level service, whether you are a first time home buyer, or building your forever home. An active member of Keller Williams Luxury International, Simon's expertise and experience has enabled him to become a specialist in luxury home sales. Clients can expect loyalty, trustworthiness, and honesty in all things.
Born and raised in Oklahoma City, Simon currently resides in Quail Creek with wife Rachel (designer, blogger & owner of Pencil Shavings Studio) and sons, Jude and Archer. The Shingletons are active members at Crossings Community Church and also enjoy their vacation home at Lake Eufaula's Carlton Landing. They are intentional about curating experiences through travel as a family.
Current Position: Realtor & Owner of 405 House & Home, Inc
License: 140150 affiliated w/ Keller Williams Elite
Residence: Quail Creek | N Oklahoma City
Family: Simon, Rachel (Designer & Owner of Pencil Shavings Studio), Jude 12 & Archer 4
Civic or Church Service: Crossings Community Church
Q&A With Simon Shingleton
How did a nice Oklahoman like yourself turn out in the real estate business? From the time I was little I had an interest in architecture, design and real estate. Perusing the Saturday real estate section as a kid I remember daydreaming about what part of town I would want to live in, what type of house, etc. In college I thought it would be worth it to study real estate with my business degree, not thinking it would be my main career path, and boy did I underestimate what that class could do for me and my family.
How has the real estate business changed over the last ten years? The emphasis on technology has made searching, connecting and collaborating with clients and other agents as seamless and almost instantaneous as it can be. However, I see more and more clients overwhelmed with all the information at their fingertips and wanting to lean on my experience to help them navigate the buying and selling process. I've even face-timed out-of-town clients to buy homes sight unseen. Knowing the neighborhoods, the inventory, and having great relationships with other agents in town is what helps my clients get their homes sold faster and find their dream home before someone else beats them to it.
What's your opinion on the current trend of home sales in Oklahoma? Over and over I hear from colleagues that the market is "Weird." The market is super hot if your house is in one of the best locations with the best updates, with buyers lined up for the right house and bidding wars are still taking place. At the same time, other areas have excess inventory and if your place doesn't have that HGTV worthy design, you might be waiting longer than expected for someone to take it off your hands.
What changes do you predict in real estate for 2020? I do still think there is a large group of buyers who are stuck, unwilling to give up their homes for fear of not being able to move up in size/price/location for lack of current inventory. I have plenty of clients willing to sit on the sidelines for the perfect house, which is causing a bit of a lag in some of the lower price points. Some of the leaders I follow on a national level seem to think the historically low interest rates will continue the trend of a steady and healthy real estate market. Our generally conservative market in Oklahoma luckily doesn't see the major swings that the coastal cities do and for that, I'm thankful.
How do you take care of your clients? There are some consistent themes from client provided reviews. I am straightforward and honest about what they need to do/change to prepare their home for the market. I communicate directly and frequently whether they are sellers or buyers. I am patient and thorough in helping buyers find the right home and I am also very involved in the whole process of finding a lender, the inspection, negotiating repairs and finding the service providers needed. I know that buying or selling a home is stressful and I try to make the process as easy for my clients as I possibly can. And clients mention they are sorry when it's over because we have fun along the way!
Would you agree that most of your new clients come from your reputation, helping past clients? This is something I track year over year. On average 75% or more of my business comes from repeat clients who also buy investment property and vacation homes, referrals from past clients and other business associates. That said, answering the phone, when a prospective buyer calls about a sign in a yard has resulted in numerous sales.
What's a typical workday entail for you? I'm able to take my boys to school a few days a week, but I'm most always in my office by 9:00. Some days I can spend almost the entire day researching sales, market stats or preparing for a meeting with a potential seller. Other days I might be out previewing or showing homes, shopping for staging a listing, or having a networking lunch with colleagues.
Do you have a specialty? I am Keller Williams Certified Luxury Home Marketing Specialist. I work with luxury clients on a regular basis, but I work with buyers and sellers from all price points. My training and experience allow me to provide the same level of service to all clients.