Last Updated on March 7, 2020 by Mack Barnes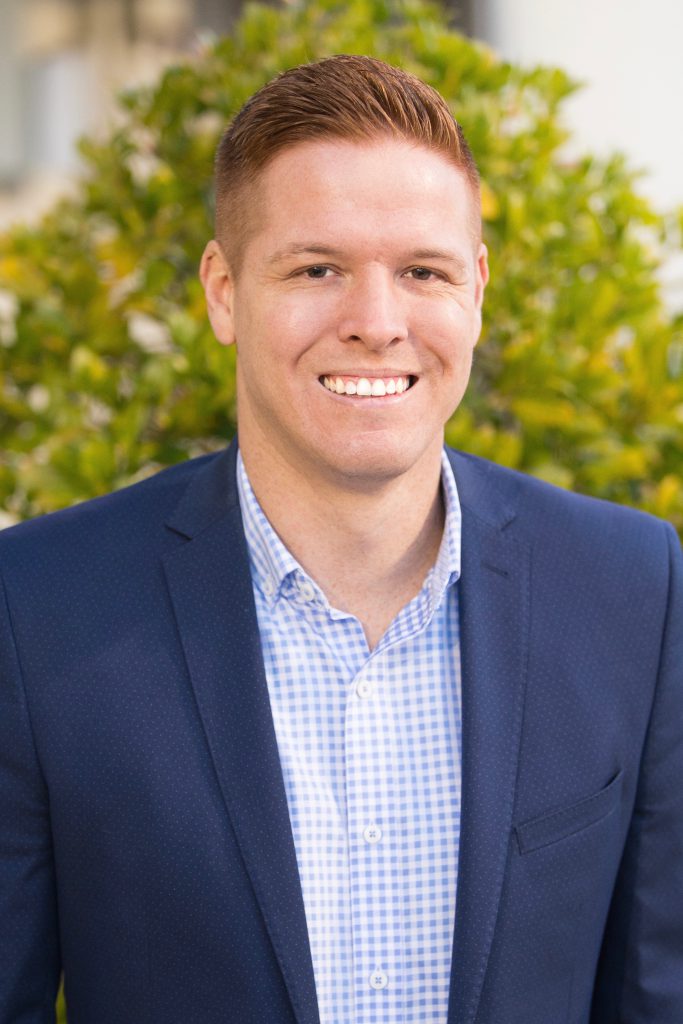 Featured Student – Terry Fox
Barnes Real Estate School's latest featured student is Terry Fox! You may recognize Terry from his work on TV as a sports anchor and reporter. Terry is enthusiastic, diligent, and accommodating, and considers it an honor to be able to serve his clients at the highest level at every price point. Terry Fox is currently associated with Sage Sotheby's International Realty.
Biography
Current Position: REALTOR associated with Sage Sotheby's International Realty
Residence: Edmond, OK
Family: Wife & Kids: To be determined.
Two Dogs, Bailey and Charlie!
Civic or Church Service: Life Church, Edmond
Q&A With Terry Fox
What made you decide to transition from a career in television to real estate?
Working in Television was a blast, but I knew early on that it wasn't something that I would do forever. I worked specifically in sports, and it can be a grueling schedule with very low pay, especially starting out. My typical hours were from 2 pm – 11 pm, and my days off were in the middle of the week, basically the opposite of everybody that I knew. And, since Sports mainly happen at night, that schedule wouldn't ever change! Looking to the future, I really wanted to have a well-paying job with a flexible schedule to be able to spend time with my family in the evenings. When I was at News 9, I saved up money and bought my first house. That was my first taste of real estate, and it really piqued my interest. I loved looking at houses online and daydreaming of homeownership and all that comes with it. After a few months of searching online, I finally found a house I wanted to see in person. My Realtor made a great first impression on me. Great guy, very personable and knowledgeable, and you could tell he loved what he was doing. Long story short, I bought my house and began looking into what it takes to get into the Real Estate industry and the endless possibilities of this fantastic career.
How have you utilized your skills as a television sports anchor, producer, and photographer over to helping your clients in real estate?
I became well-versed in many areas working in television since there are so many aspects of the job. As you stated, I worked as an on-air talent, producer, and photographer. I have always been a people-person and working on TV only helped to magnify that. When you are constantly interviewing people, you become comfortable with asking questions and keeping conversations going. This skill has helped me connect easily with many of my clients, so well, in fact, that we usually become good friends along the way! That's just one part of my job that I love, connecting with people on a more personal level. Developing trust is important since buying a home is usually one of the biggest purchases a person can make! As a producer, I developed a talent for writing. This skill has helped me immensely when writing descriptions for my Listings and social media content. And, as a photographer, I was able to utilize this skill to work part-time for an incredible Real Estate Photography company called Nested Tours, when I was first getting started in the business. This helped to supplement my income and gave me a keen eye for how a home is supposed to look when getting ready for Picture Day. It's something that I take pride in when I have a new listing to be able to help the
homeowner get their home ready for pictures and showings and to make the professional images jump out to buyers when they first see the home online. First impressions are everything. I never imagined the skills I learned as a TV sports anchor, producer, and photographer would translate so well to my Real Estate career!
What's your opinion on the current trend of home sales in Oklahoma?
I think we are truly blessed to live in our great state of Oklahoma! I love to travel, and I find it interesting keeping up with the different styles and prices of homes across the country. While I do think we could enhance the style of homes being built here, we are lucky to be priced well below the national average. I looked this up recently because I was curious. An article from businessinsider.com dated in January 2020 states that the average price of a home in Oklahoma is just under $129,000. This ranks as the 4th-lowest in the entire country! The national average is just over $243,000, according to the same article.
Simply put, you can get a much bigger/nicer home for less money in Oklahoma than you can almost anywhere else in the United States. Right now, with interest rates nearing historic lows, there are a lot more buyers than there is inventory. It's competitive out there, so having an agent who understands the market is crucial so you can land the home of your dreams.
Do you have any predictions for the real estate market in 2020?
I think if interest rates continue to trend near historic lows, it will remain as a competitive market for the foreseeable future. I think you will see an uptick in people purchasing investment properties as well. We have a lot of out of state investors who love our market. Many factors contribute to this so it could change at any moment.
How do you take care of your clients?
Communication is key for me. Keeping clients informed throughout the process and being available to answer their questions in a timely manner is an important part of how I get to serve them at a high level. I'm also a connector of sorts. I have an extensive list of vendors who I am able to recommend to my clients, whether that be a great lender to talk to, home inspector, structural engineer, etc… but, it goes well beyond that. Being a part of a great brokerage in Oklahoma City, Sage Sotheby's International Realty is definitely a strength for my clients and I. We have some incredibly experienced agents who are always willing to help, so every
little thing my client needs, we have an answer for them! I'm also very involved in the entire process, helping negotiate the deal, handling inspections and repairs, and ironing out every detail until my client gets to the Closing table.
What's a typical workday entail for you?
Every day is a little bit different, and that's what keeps it interesting! One day, you could be scouring the market for the perfect home for your buyer, heading out to a showing, inspection, and/or closing or working on detailed marketing for an upcoming listing… then, the next day you are working on filling out a questionnaire to be a Featured Student for the best Real Estate School in Oklahoma! This is a tremendous honor, by the way. I work from home a lot or at a local coffee shop, so if you see me out and about come, say hello!
Do you have a specialty?
One of the cool things about working for an International Real Estate Brokerage like Sotheby's is that you have a world-wide touch, and we can help people find their dream home, whether it's in Oklahoma or their dream vacation home in the Bahamas. We are considered a Luxury brokerage, but it's never about price point. It's about Luxury service on every transaction!
Would you like to add anything?
If you are thinking about getting your Real Estate license, don't waste your time going anywhere else. The Barnes Real Estate School is the place to be!
Connect With Terry
Instagram: instagram.com/terryfoxrealty
Facebook: facebook.com/terryfoxrealty
Zillow: zillow.com/profile/terryfoxrealty