Last Updated on November 19, 2021 by Mack Barnes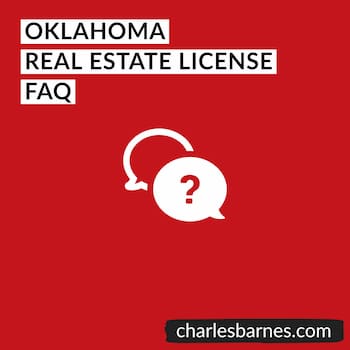 How to become a real estate agent in Oklahoma?
To qualify for an Oklahoma real estate license, you need to be at least 18-years of age, be of good moral character, and provide evidence of citizenship or qualified alien status. Visit our article How to Get a Real Estate License in Oklahoma for detailed steps regarding education, the state exam, and license fees required to obtain a license.
What is a provisional sales associate?
Real estate licensees start with a one-year provisional sales associate license. Provisional sales associates are required to complete a 45-hour Basic II Post-License course within 12-months. After the one-year license term, completion of education, submission of applicable forms, and license fee paid to the Oklahoma Real Estate Commission, licensees can renew as a sales associate.
How much is a real estate license?
2020 Oklahoma Real Estate License Fees

Provisional Sales Associate – $100
Active Sales Associate – $215
Inactive Sales Associate – $140
Active Broker Associate – $260
Inactive Broker Associate – $165
Active Broker – $295
Inactive Broker – $175

Can I sell commercial real estate?
As long as you have an active real estate license in Oklahoma, you can sell any type of real estate, including commercial or residential real estate.
As a licensed real estate associate, can I refer to myself as a real estate "agent"?
Yes! Oklahoma law specifically allows for the use of the word "agent" in a trade name and as a general reference for designating themselves as real estate licensees. See §858-361.
What's the difference between a sales associate and a broker license?
In order for a real estate license to be active, real estate sales associate licensees must have their license associated with a broker.
Information presented should not be used as a substitute for competent legal advice.